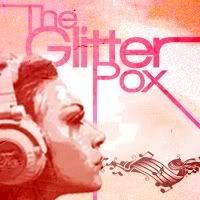 Right now, I'm taking time out of my regularly scheduled book-squeeing to squee about something a little different, but equally delightful.
Do you like humming along to that really awesome song on the radio? Do you like sounds? Do you like life, in general?
Cater to all of the above by visiting
The Glitter Pox
, launched January 1, 2011 by Chelsea and Emili.
You all probably know Chelsea from
The Page Flipper
. She's one of my favorite bloggers and my own personal music BFFL. What you may not know about her is that she's also a musical genie. Oh yes, that's right. You wish you had some good music? She can grant that wish. And she's not some lame genie that limits you to three wishes. She gives you song after song after song. And I can tell you first hand that she has impeccable taste in music.
My favorite aspects of The Glitter Pox are:
a) I can listen to the songs on my iPhone straight from the website. I'm listening right now, actually. And the media player is right there on the post, so no linking to YouTube or any third party site.
b) There are highlights of favorite lyrics, as well as a song interpretation from the blogmasters. I love hearing what others have to say about songs.
c) These girls also offer a suggestion of the perfect atmosphere for that particular song, as well as a "sounds like" feature, so you have an idea of what you're getting yourself into.
d) GORGEOUS design.
I've already bookmarked this website. If you love your ears and would like to pamper them a bit, you'll do the same.